Course details
On the day OK! 【2 hours】 All you can drink alone ☆ 1500 yen! Premolle raw ☆ Highball ☆ Sour etc.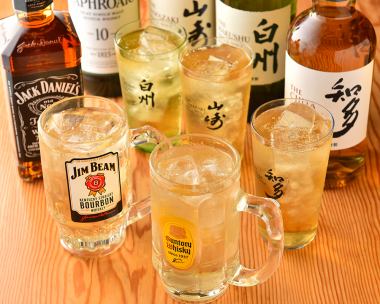 By using a coupon1,500 yen
Tax-included price
All-you-can-drink available

◆ ◆ ◇ ◆ ◇ ◆ 100 kinds of drinks you like ◆ ◆ ◇ ◆ ◇ ◆
Reservation deadline

Until 22 o'clock on the desired date of coming to the store
Available days for reservation

Monday - Sunday - Public holidays - Holidays
On the day OK ☆ 100 kinds of drink as much as you can drink at 1500 yen! You can drink premoles, sour and highballs! Super super reasonable!
Course menu
100 items of drink menu
beer
The Premium Mortz (raw)
Shandygaaf
Red eye
whiskey
High Ball, Cork High Ball, Ginger High Ball, Tonic Hi Bowl, Calpis High Ball, Medium High Ball, Ginger High Ball, Bow High Bowl, Grape Bowl High Ball, Acid Blue High Ball, Umeboshi High Ball, Tired Mr. High Ball , Oolong highball, matcha highball, apple vinegar highball, grape vinegar highball, pomegranate vinegar highball, plum wine highball, Sikwasa highball, giant peak highball, cassis highball, yuzu bee highball, acerola highball, Ramune high ball, grated Aloe highballs, grated ginseng highball highball, grated mango highball
sour
Oolong High, Jasmine High, Matcha High, Corn Brown High, Lemon Sour, Grapefruit Sour, Lime Sour, Umeboshi Sour, Tired Mr. Sour, Calpis Sour, Sikwerser Sour, Big Peak Sour, Acerola Sour, Yuzu Bee Honey Sour, Grated Mango Sour, grated white peach sour, grated Aloe vera, tomato high
Shochu
Potato shochu, wheat shochu, rice shochu, brown sugar distilled spirit, awamori
Sake
Chinese sake
Shaoxing wine, Oga dressing
Cocktail
Tequila Ginger, Tequila Cola, Tequila Orange, Tequila Grapefruit, Lamb Soda, Rum Ginger, Rumcora, Lamb Orange, Lamb Grapefruit, Cassis Soda, Cassis, Jasmine, Jin Lime, Jin Ginger, Jincora, Vodka Soda, Vodka Ginger, Vodka Soda, Ginger, Cassis Orange, Cassis Grapefruit, Cassis Mango, Cassis Peach, Cassis Calpis, Campari Soda, Campari Ginger, Campari Cola, Campari Orange, Campari Grapefruit
Soft drink
Oolong tea, Jasmine tea, Green tea, Corn tea, Cola, Ginger ale, Acerola juice, Orange juice, Grapefruit juice, Grated fresh mango juice, Grated white peach juice, Grated aloe juice, Calpis soda
* Please exchange glasses.
※ Last orders will be asked 20 minutes in advance.
All-you-can-drink menu
·Highball
· High Ball, Cork High, Ginger, Tonic, Calpis, Medicinal Food, Ginger, Soup, Grapezu, Acid Oil, Umeboshi, Tired, Milky Wheat, Matcha, Apple Vinegar, Grape Vinegar, Pomegranate Vinegar, Plum wine, Sikwasaer, Kyoho , Cassis, yuzu bee, acerola, ramune, grated aloe, grated white peach, grated mango
·beer
· The Premium · Malts (Raw), Shandiger, Red Eye
·sour
· Oolong High, Jasmine High, Matcha High, Corn Tea High, Lemon, Grapefruit Sour, Lime Sour, Umeboshi Sour, Tired Mr. Sour, Calpis Sour, Sequier Sour, Big Peak Sour, Acerola Sour, Yuzu Honey Sinker, Grated Gold Mango Sour, grated white peach sour, grated Aloe vera, tomato high
·Sake
·Sake
· Chinese sake
· Shaoxing wine, Fuuka dressing
· Shochu
· Potato shochu, wheat shochu, rice shochu, brown sugar distilled spirit, awamori
· Cocktail 1
· Soda, ginger, ginger, ginger, cola [vodka] soda, ginger, ginger, cola, orange, grapefruit [lamb] soda, ginger, cola, orange, grapefruit [campari] soda, ginger, Coke, orange, grapefruit
· Cocktail 2
· [Cassis] Soda, Ginger, Orange, Grapefruit, Mango, Peach, Calpis [Campari] Soda, Ginger, Coke, Orange, Grapefruit [Lamb] Soda, Ginger, Cola, Orange, Grapefruit [Cassis] Soda, Ginger, Orange, Grapefruit, mango, peach, Calpis
·Soft drink
· Oolong tea, Jasmine tea, Matcha, Corn tea, Cola, Ginger ale, Acerola juice, Orange juice, Grapefruit juice, Grated fruit mango juice, Grated white peach juice, Grated aloe juice, Calpis soda
2018/12/06 update